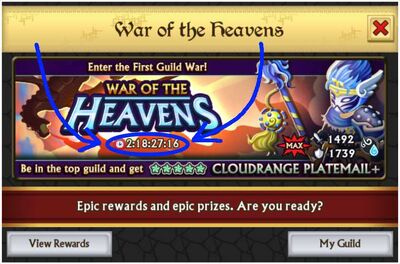 War of the Heavens was the 1st of the 
Guild Wars
.  This war was available to the iOS in August 2013.  It was a very buggy war.  The reward screen shows the full list of prizes for all levels, ranging from
Cloudrange Platemail+
and
Combustion Armor+
at the top all the way down to a few Phoenix Feathers and 75,000 gold for #1,501-2000.
Ad blocker interference detected!
Wikia is a free-to-use site that makes money from advertising. We have a modified experience for viewers using ad blockers

Wikia is not accessible if you've made further modifications. Remove the custom ad blocker rule(s) and the page will load as expected.