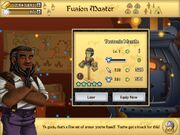 When I was introduced to KaD almost a year ago I loved the game! This wiki has been very helpful! I continue to play daily and enjoy the interaction with other players. Just reading some of the posts on this wiki makes me laugh. I have so far fused the following in this order::: 1- moontide 2- blaze 3- maelstrom 4-Northernor 5-forgestone 6-Druidic 7-tectonic. -- Now -- the sad part. Not all on the same account as I have 3. But it just shows fusion does work just keep trying. My hobby is building armor.
Again Happy Birthday. I have many names including Little Ms Lo and NiteMare and fusion is my game !!--STORMYJACKMAN 15:31, May 14, 2014 (UTC)]
Ad blocker interference detected!
Wikia is a free-to-use site that makes money from advertising. We have a modified experience for viewers using ad blockers

Wikia is not accessible if you've made further modifications. Remove the custom ad blocker rule(s) and the page will load as expected.