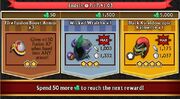 Hey guys!
Gree started new event in game - Gempocalypse! If we spend some gems for anything like upgrades, special attacks, or refilling energy we could get another bonus rewards! If you spend 50 gems you will get 3 Fire Fusion Boost Armors, if you spend 1500 gems you will get Wicked Wraith +, and if you will spend 5000 gems (insane amount!) you will get Black Kaleidoscopic Raiment +. Event ends 2nd of November, like new Guild War, War of the Wicked. Gree also started 30% gem sale what will end 31st of October.
In my opinion this event is another evidence that Gree should be named Greed. 5000 gems for BKal? That's worth like 400 euro, even with sale!
What do you think about it? Do you will spend your money into it? Write in comments!