I've decided to chronicle my inability to play my favorite game Knights and Dragons.  
If you read my previous post, you'll know I love Knights and Dragons and that I'm having major problems on the iOS version.  I have an iphone 4GS and can't play.  In a reply to some pointed commentary I sent GREE, they let me know that it was my 'device's' issue.  As in the phone that I use for personal and business use, sync calendars, and four email accounts too, and run every social media app available from can't handle "Knights and Dragons."  Since this is the case, I'm hoping GREE sends me their address so I can mail them my phone.  This way they can 'troubleshoot the device' as they specified in their reply to my previous post.  
Am I an angry customer?  No, I've yet to pay to play this game, so I can't expect complaining to do anything.  Do I want a handout?  No, I hate haters who hate for the sake of a freebie.  But here's a thought: as I can't stand seeing a new update for the game that includes 'bug fixes' that only lead to crashing and inability to play for days, why not hit up my guild--The Player's Club--OR ANY OTHER GROUP OF PLAYERS and test these things out before going live, and you know... making sure it works.  
Cause, usually it don't work...  (Seriously; hit up my guild.  It's not like I've been able to talk to them for a few days...)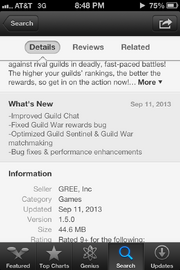 I was able to play for two or three minutes today before the crashing began.  That's not an exaggeration.    
Really, all I want to know is if I'm the only one this is happening to (i.e. GREE has it out for me), or if I am the sole owner of an iPhone4GS that won't run this game, or if this is the norm.  Any way it is it's unacceptable.  
Morale will be improved when the game operates as it should.  
Ad blocker interference detected!
Wikia is a free-to-use site that makes money from advertising. We have a modified experience for viewers using ad blockers

Wikia is not accessible if you've made further modifications. Remove the custom ad blocker rule(s) and the page will load as expected.