Ad blocker interference detected!
Wikia is a free-to-use site that makes money from advertising. We have a modified experience for viewers using ad blockers

Wikia is not accessible if you've made further modifications. Remove the custom ad blocker rule(s) and the page will load as expected.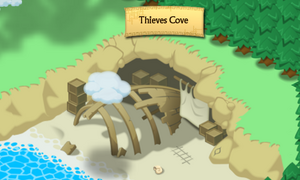 Thieves Cove is the second stage. The mini-boss is the Water Elemental, and the main boss is Waterio. All enemies in this stage are of the water element except Waterio, who is water and air.
 
Normal
Mighty
Valor
Honor
Epic
Battle 1

Octopirates x2 (+8xp)

Octopirates x2

Octopirate x1

Water Spirit x1

Octopirates x2

Trident Fish x1

Trident Fish x1

Octopirate x1

Battle 2

Octopirates x2 (+8xp)

Octopirate x1

Water Spirit x1

Octopirate x1

Trident Fish x1

Octopirate x1

Water Spirit x1

Octopirate x1

Water Spirit x1

Trident Fish x1

Battle 3

Octopirates x2 (+8xp)

Octopirates x2

Octopirate x1

Trident Fish x1

Octopirates x2

Trident Fish x1

Octopirate x1

Water Spirit x1

Trident Fish x1

Battle 4
Water Elemental (+22xp)

Octopirate x1

Octopirate x1

Trident Fish x1

Octopirate x1

Trident Fish x1