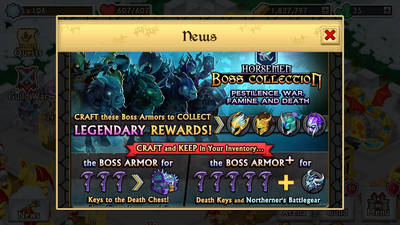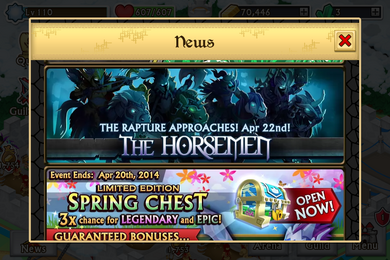 The Rapture Approaches! April 22nd! The Horsemen.
The Horsemen is a collection of Epic Bosses which starts on April-22-2014 and ends on May-20-2014. This collection includes 4 horsemen-like Epic Bosses known as Pestilence , War , Famine , and Death . Craft and keep all four legendary armors in your inventory to get:
Prizes:
Crafting Normal: 3 keys to the Death Chest
Crafting +: 5 keys to the Death Chest and a Northerner's Battlegear
Ad blocker interference detected!
Wikia is a free-to-use site that makes money from advertising. We have a modified experience for viewers using ad blockers

Wikia is not accessible if you've made further modifications. Remove the custom ad blocker rule(s) and the page will load as expected.