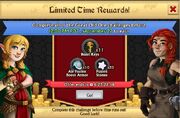 "The Great Old One" was the first Limited Time Quest in Knights and Dragons.  Prizes were awarded for three stages:
Complete quests 1 & 2: Three Air Fusion Boost armors and five Enchanted Chest keys.
Complete quests 3 & 4: Six Air Fusion Boost armors, five Dark Prince's Chest keys, and six Fusion Stones.
Complete quests 5 & 6: Ten Air Fusion Boost armors, eleven Beast Keys, and twenty Fusion Stones.
The component quests:
Great Old One
Edit
​
Current Events

Epic Boss
Tournament
Guild War
Raid Boss
Chest
Other
Ad blocker interference detected!
Wikia is a free-to-use site that makes money from advertising. We have a modified experience for viewers using ad blockers

Wikia is not accessible if you've made further modifications. Remove the custom ad blocker rule(s) and the page will load as expected.