Ad blocker interference detected!
Wikia is a free-to-use site that makes money from advertising. We have a modified experience for viewers using ad blockers

Wikia is not accessible if you've made further modifications. Remove the custom ad blocker rule(s) and the page will load as expected.
The Spectral Chest is a limited edition Chance Chest running from December 24, 2015, to December 31, 2015. It gave a 2x chance for Dragonforged & a 10x chance for Dragonforged+. It introduced the Spectral Vanguard+, the only dragonforged Starmetal Armor.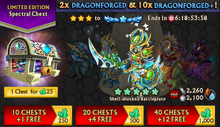 1 Chest: 25 Gems
11 Chests: 250 Gems
24 Chests: 500 Gems
52 Chests: 1000 Gems
Guaranteed Bonuses
Edit
11 Chests: 10 Snowflakes
24 Chests: 30 Snowflakes
52 Chests: 75 Snowflakes