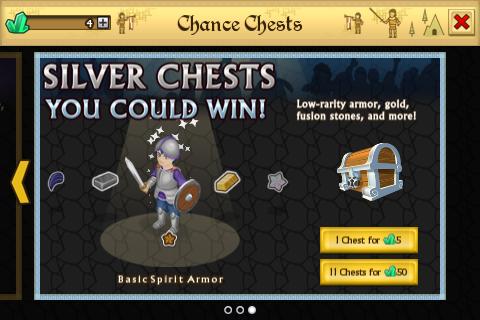 Information
Edit
The Silver Chest was once a permanent Chance Chest in Knights and Dragons. The chest can be bought for 2 Gems

for 1, or 20 Gems

for 11. This chest is no longer in the game.
How to Obtain
Edit
Chance to get one by killing a boss with a special in adventure mode
From a reward tier of any epic boss
In the Arena as reward of a milestone or as a reward from arena leaderboard
Daily rewards (until it was removed and replaced with the Enchanted Chest for daily rewards).
Possible Rewards
Edit
Low-rarity armor, gold, fusion stones, and more!
Current Events

Epic Boss
Tournament
Guild War
Raid Boss
Chest
Other
Ad blocker interference detected!
Wikia is a free-to-use site that makes money from advertising. We have a modified experience for viewers using ad blockers

Wikia is not accessible if you've made further modifications. Remove the custom ad blocker rule(s) and the page will load as expected.