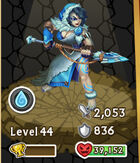 Selkie is a mono Water Epic Boss that runs from April 22th, 2015 to April 29th, 2015. Selkie drops Selkic Flints when defeated which are used to craft Selkic Seacloak when you collect 50 pieces. It is also the fourth Epic Boss that makes Epic armors.
Selkie's Nemesis will be available in the Dark Prince's Chest for the duration of this Epic Boss.
A selkie is a mythological creature found in Scottish and Irish folklore. They are said to live as seals in the sea but would shed their seal-skin and shapeshift to become human on land.
Ad blocker interference detected!
Wikia is a free-to-use site that makes money from advertising. We have a modified experience for viewers using ad blockers

Wikia is not accessible if you've made further modifications. Remove the custom ad blocker rule(s) and the page will load as expected.