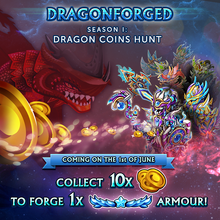 Season 1 introduced Dragonforged Armors on the european server on the 1st of June 2016.
Background story
Edit
There is a legend that goes back to a time when dragons ruled the world and only five knights had the strength and the courage to fight them: they were called the Dragon Knights.
Their power came from their extraordinary armors made of the most precious materials that could be found in the ancient world - Dragonforged Armors they called them. They started hunting dragons one by one, but when they decided to fight Tiamat, the Lord of all the Dragons, the time for those mighty Knights came to an end.
In a glorious battle the Dragon Knights were defeated and their Dragonforged Armors smelted into the shape of common gold coins and mixed with all the treasures that the dragons were protecting. But now the Guilds of the realm have found Tiamat's secret and the war for the Dragonforged Armors has begun. Will you be able to find enough Dragon Coins to craft one?
To get them defeat the other guilds and the Raid Bosses who are protecting Tiamat's treasures or beat other knights that are seeking them in the tournaments. Or will you find one in one of the realm chests?
Name

Elements

Crafting Material
Maxed normal stats

Maxed plus stats

Images

Prehistoric Huntsguard
10 Dragon Coins
2503/2746
2637/2894

Tomistian Vanguard

10 

Dragon Coins
2717/2532
2862/2669

Forsaken Firesheath

10 

Dragon Coins
2593/2656
2736/2795

Mistral Valoris

10 

Dragon Coins
2577/2672
2719/2813

Mystic's Mantle

10 

Dragon Coins
2688/2561
2830/2701
Ad blocker interference detected!
Wikia is a free-to-use site that makes money from advertising. We have a modified experience for viewers using ad blockers

Wikia is not accessible if you've made further modifications. Remove the custom ad blocker rule(s) and the page will load as expected.