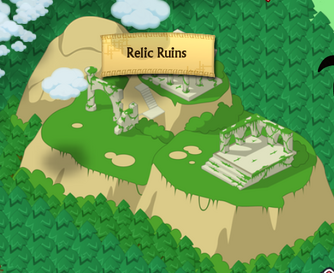 Relic Ruins is the first stage in the game. It is essential to beat and has easy enemies which are earth types. Therefore spirit types are recommended but air types should be refrained from being used. The mini-boss of Relic Ruins is the Earthquake Serpent, and the main boss is the Gorgon Warmistress. While defeating enemies in Relic Ruins, users collect Earth Shards, Stone Slabs and Snakeskin Leather Strips, which can craft armours such as Basic Earth Armor, Stonescale Plate Mail and Snakeskin Armor.
 
Normal
Mighty
Valor
Honor
Epic
Battle 1
Goblin
Goblin
Goblin x2
Goblin x2
Goblin x3
Battle 2
Goblin
Goblin
Skeleton
Goblin x2
Goblin x2

---

Goblin x3
Goblin x3

---

Skeleton x2
Goblin x2
Battle 3
E. Serpent
E. Serpent
Skeleton
Goblin
Goblin x3

---

Skeleton x2
Goblin
Goblin x3

---

Skeleton x2
Goblin x2
Battle 4
 
 
Goblin
E. Serpent
Goblin
Gorgon Warmistress
Goblin x2
Gorgon Warmistress
Ad blocker interference detected!
Wikia is a free-to-use site that makes money from advertising. We have a modified experience for viewers using ad blockers

Wikia is not accessible if you've made further modifications. Remove the custom ad blocker rule(s) and the page will load as expected.