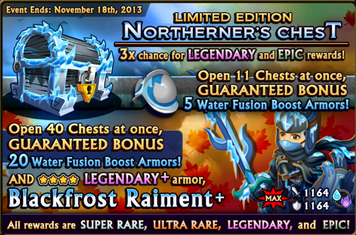 The Northerner's Chest is a Limited Edition
Chance Chest
that began November 14th and finished November 18th.
The chest can only be opened by using 30 Gems. There is a 3x chance for Legendary and Epic armor sets. It is also the debut of the new epic armor, the Northerner's Battlegear.
Lastly, there's a bonus for opening 11 or 40 chests at once. The prize for opening 11 chests is 5 guaranteed Water Fusion Boost Armors. The prize for opening 40 chests is 20 Water Fusion Boost Armors and the plus version of Blackfrost Raiment.
Possible rewards
Edit
These are the currently confirmed rewards in the Northerner's Chest:
Current Events

Epic Boss
Tournament
Guild War
Raid Boss
Chest
Other
Ad blocker interference detected!
Wikia is a free-to-use site that makes money from advertising. We have a modified experience for viewers using ad blockers

Wikia is not accessible if you've made further modifications. Remove the custom ad blocker rule(s) and the page will load as expected.