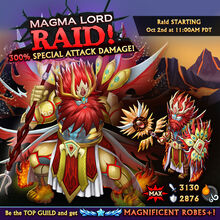 The Magma Lord Raid started on October 2nd, 2015, and ended on October 4th, 2015. The main reward was Magnificent Robes, which is a Fire/Air Dragonforged Armor.
Magma Lord Raid (early October 2015):
Guilds/Players 1-3 receive the Plus version

Guild/Player #1 receive 2 Plus versions

Guilds/Players 4-10 receive the Regular version
Armor

Common
•

Uncommon
•
Rare
•

Super Rare
•
Ultra Rare
•

Legendary
•
Epic
•
Dragonforged
•
Shadowforged
•

Nemesis
•
Epic Boss Armors
•
Fusion Boost Armor
Ad blocker interference detected!
Wikia is a free-to-use site that makes money from advertising. We have a modified experience for viewers using ad blockers

Wikia is not accessible if you've made further modifications. Remove the custom ad blocker rule(s) and the page will load as expected.