Ad blocker interference detected!
Wikia is a free-to-use site that makes money from advertising. We have a modified experience for viewers using ad blockers

Wikia is not accessible if you've made further modifications. Remove the custom ad blocker rule(s) and the page will load as expected.
The Kirin Raid was a raid event running from December 20, 2015, to December 21, 2015. However, there was one done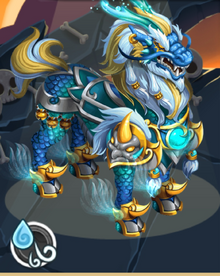 in 2014, that was two days long, that can be found Here.
The main reward was the Kirin Vanguard+, which is an Water/Air Epic Armor.
Top Guild Rewards 
Edit
| Rank | Ribbon | Rewards |
| --- | --- | --- |
| #1 | Black Medal | 2x Kirin's Vanguard+, 20 Dark Prince's Keys, 10 Gems |
| #2 | Gold Medal |  1x Kirin's Vanguard+, 10 Dark Prince's Keys, 10 Gems |
| #3 | Silver Medal | 1x Kirin's Vanguard, 5 Dark Prince's Keys, 10 Gems |
| #4-10 | Bronze Medal | 1x Kirin's Vanguard, 2 Dark Prince's Keys, 5 Gems |
| #11-25 | Ribbon A | 1x Champion's Battlegear, 10 Enchanted Keys, 5 Gems |
| #26-50 | Ribbon B | 1x Snowstorm Platemail, 8 Enchanted Keys, 3 Gems |
| #51-100 | Ribbon C | 1x Anzû's Call, 2 Enchanted Keys, 2 Gems |
| #101-250 | Ribbon D | 1x Blazestone Mantle, 1 Enchanted Key, 2 Gems, 500,000 Gold |
| #251-500 | Ribbon E | 1x Selkic Seacloak, 2 Gems, 400,000 Gold |
| #501-750 | Ribbon F | 1x Lilith's Mantle+, 2 Gems, 350,000 Gold |
| #751-1,000 | Ribbon G | 1x Lilith's Mantle, 2 Gems, 300,000 Gold |
| #1,001-1,500 | Ribbon H | 1x Armor of Boreas+, 1 Gem, 250,000 Gold |
| #1,501-2,500 | Ribbon I | 1x Armor of Boreas, 1 Gem, 200,000 Gold |
| #2,501-3,500 | Ribbon J | 1x Spectral Captain's Uniform+, 2 Fusion Stones, 100,000 Gold |
| #3,501-5,000 | Ribbon K | 1x Spectral Captain's Uniform, 2 Fusion Stones, 75,000 Gold |
| #5,001, 6,500 | Ribbon L | 1x Asura Armor+, 2 Fusion Stones, 50,000 Gold |
| #6,500-8,000 | Ribbon M | 2 Fusion Stones and 25,000 Gold |
Top Player Rewards
Edit
| Rank | Ribbon | Rewards |
| --- | --- | --- |
| #1 | Black Medal | 2x Kirin's Vanguard+, 30 Dark Prince's Keys, "Kirin Vanquisher", 10 Gems |
| #2 | Gold Medal |  1x Kirin's Vanguard+, 20 Dark Prince's Keys, 10 Gems |
| #3 | Silver Medal | 1x Kirin's Vanguard, 12 Dark Prince's Keys, 8 Gems |
| #4-10 | Bronze Medal | 1x Kirin's Vanguard, 8 Dark Prince's Keys, 8 Gems |
| #11-50 | Ribbon A | 1x Champion's Battlegear, 8 Dark Prince's Keys, 8 Gems |
| #51-100 | Ribbon B | 1x Snowstorm Platemail, 8 Dark Prince's Keys, 5 Gems |
| #101-200 | Ribbon C | 1x  Anzû's Call, 3 Dark Prince's Keys, 5 Gems |
| #201-500 | Ribbon D | 1x Blazestone Mantle, 5 Enchanted Keys, 3 Gems |
| #501-1,000 | Ribbon E | 1x Selkic Seacloak, 5 Enchanted Keys, 3 Gems |
| #1,001-2,500 | Ribbon F | 1x Lilith's Mantle+, 3 Enchanted Keys, 2 Gems |
| #2,501-3,500 | Ribbon G | 1x Litith's Mantle, 3 Enchanted Keys, 2 Gems, 70,000 Gold |
| #3,501-5,000 | Ribbon H | 1x Armor of Boreas+, 3 Enchanted Keys, 2 Fusion Stones, 70,000 Gold |
| #5,001-7,500 | Ribbon I | 1x Armor of Boreas, 2 Enchanted Keys, 2 Fusion Stones, 50,000 Gold |
| #7,501-10,000 | Ribbon J | 1x Spectral Captain's Uniform, 1 Enchanted Key, 2 Fusion Stones, 35,000 Gold |
| #10,001-25,000 | Ribbon K | 1x Spectral Captain's Uniform, 1 Enchanted Keys, 2 Fusion Stones, 25,000 Gold |
| #25,001-50,000 | Ribbon L | 1x Asura Armor+, 2 Fusion Stones and 20,000 Gold |
| #50,001-75,000 | Ribbon M | 2 Fusion Stones and 15,000 Gold |
Winners of the Raid Boss
Edit
iOS: HAI Death Squad
Android: SPAIN