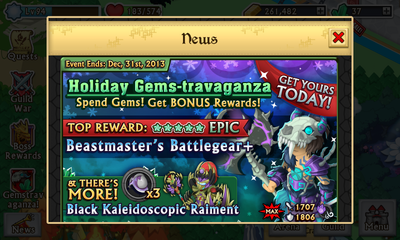 Holiday Gems-travaganza is a gem spending event from the 26th of December to the 31st of December 2013.
When you spend 50 gems you will receive 3x Spirit Fusion Boost Armor When you spend 1500 gems you will receive Black Kaleidoscopic Raiment When you spend 5000 Gems you will receive Beastmaster Battlegear+.
Event lasted from: December 26th - December 31st (2013).
Ad blocker interference detected!
Wikia is a free-to-use site that makes money from advertising. We have a modified experience for viewers using ad blockers

Wikia is not accessible if you've made further modifications. Remove the custom ad blocker rule(s) and the page will load as expected.