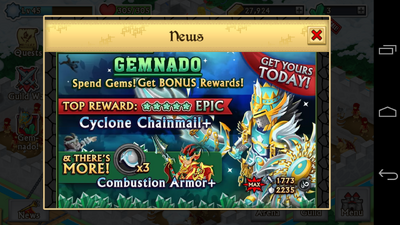 The Gemnado was a special event that gives rewards for the amount of Gems spent for the duration of the event. The main reward is Cyclone Chainmail+, and other rewards included Combustion Armor+ and Air Fusion Boost Armor. It advertised that you could 'Spend Gems' and 'Get BONUS Rewards'.
Event lasted from: March 27th - April 2nd.
Ad blocker interference detected!
Wikia is a free-to-use site that makes money from advertising. We have a modified experience for viewers using ad blockers

Wikia is not accessible if you've made further modifications. Remove the custom ad blocker rule(s) and the page will load as expected.