Fusion Stones
Edit
Material
Fusion Stone
Used for:
Fusion
Found:
Bosses, Rewards, Chests
Amount Required:
1
Can be obtained from:
- x1-3 in a Silver Chest
- Beating Bosses (mostly on epic stages)
- x3 in an Enchanted Chest
- x1-25 from Fusion Fighter's Blitz
- Occasional Daily Reward
Fusion stones are used alongside 25,000 gold to fuse 2 armors of separate elements together.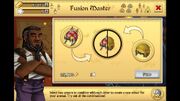 Ad blocker interference detected!
Wikia is a free-to-use site that makes money from advertising. We have a modified experience for viewers using ad blockers

Wikia is not accessible if you've made further modifications. Remove the custom ad blocker rule(s) and the page will load as expected.