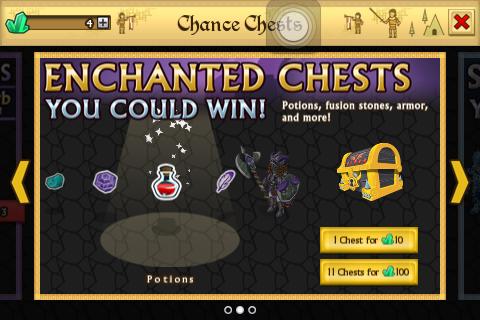 Information
Edit
The Enchanted Chest is a permanent Chance Chest in Knights and Dragons. The chest can be bought for 5 Gems

each. The Enchanted Chest contains low rarity and uncommon armor sets but yet gives something better in exchange.You can also receive fusion/crafting gems in here to fuse armor and craft them to. You can also get fusion stones. It is the Second valuable Chance Chest that is permanent 
Enchanted keys can be earned by beating the epic boss 28 times earn 3 enchanted chest keys beat epic boss 43 times and earn 5 enchanted keys defeat the epic boss 60 times and earn 10 enchanted chest keys.
New arena tournament system gives away enchanted keys as reward for milestone rewards and also win streaks rewards. You get 1 enchanted key when your win streaks hits 15 , 2 enchanted keys when 18 win streaks , and 3 enchanted keys for 20 win streaks. For milestone rewards, enchanted key is given away at 3600 (1 key), 16000 (1 key) , 36000 (2 keys) , 70000 (3 keys) and 126000 (4 keys) tournament points interval.
You can also earn them by leveling up to certain levels which give different rewards.
Possible rewards
Edit
Gems (10~15)
Rings And amulets. You can get to 5 star in this chest if you are lucky!
Current Events

Epic Boss
Tournament
Guild War
Raid Boss
Chest
Other
Ad blocker interference detected!
Wikia is a free-to-use site that makes money from advertising. We have a modified experience for viewers using ad blockers

Wikia is not accessible if you've made further modifications. Remove the custom ad blocker rule(s) and the page will load as expected.