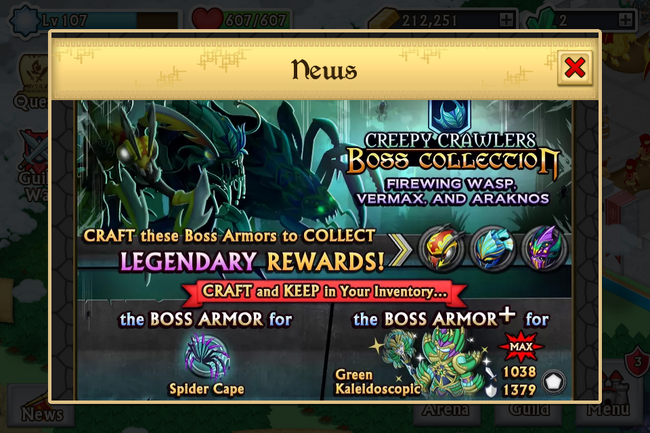 The Creepy Crawlers is a collection of Epic Bosses which starts 18th March and end 8th April 2014. This collection included 3 bosses: Firewing Wasp, Vermax and Araknos. Craft and keep all three legendary armors to get:
Higher Stats
Edit
The stats of the Creepy Crawlers bosses differed from the normal Nian Generation Epic Boss Stats. Firewing Wasp had normal Nian Generation stats. Vermax had higher stats than usual. Above level 19 attack, defense and health were all 10% higher. Araknos had 5% higher attack, defense and health stats than Vermax on all levels. Consequently Vermax's stats were 5% higher than Nian's until level 18, and 15% higher than Nian's above level 18.
At Boss level 43 Araknos's strength was comparable to a Nian Generations Boss's strength at Boss level 59.