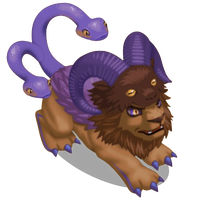 The Chimera is a normal boss that is earth and spirit typed. It is weak to fire/spirit, and strong against air/earth. Chimera can be found at
Sparkling Steppes
. It can drop
Chimera Talons
, which are used to craft an armor called the
Chimera Corps Uniform
, and
Stone Slabs
, which can craft
Stonescale Plate Mail
. Defeating Chimera ten times earns the
achievement
"Triple Threat".  Defeating it on the Epic stage gives access to
Blazing Tides
.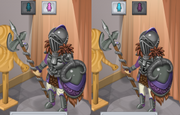 Element: Earth/Spirit
Max health: 475
Drops: Chimera Talons (sometimes Stone Slabs)

Exp: 1212
Summon cost: 16 gems
Ad blocker interference detected!
Wikia is a free-to-use site that makes money from advertising. We have a modified experience for viewers using ad blockers

Wikia is not accessible if you've made further modifications. Remove the custom ad blocker rule(s) and the page will load as expected.