Ad blocker interference detected!
Wikia is a free-to-use site that makes money from advertising. We have a modified experience for viewers using ad blockers

Wikia is not accessible if you've made further modifications. Remove the custom ad blocker rule(s) and the page will load as expected.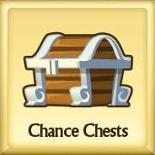 The Chance Chests
are virtual chests where you can open them and receive excellent loot dependent on the chest. Over time, there are limited edition Chests which will be opened with the most gems. These chests along with the Rings and Amulets chest
CANNOT
be opened with a key. They both require gems to unlock.
Enchanted Chests
Edit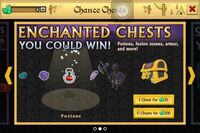 Enchanted Chest is the 2nd chest you can open by using either 5 Gems or Enchanted Keys. You can win Potions, Fusion stones, Armors, Materials, Uncommon and Rare armor and more! The best armor you can get is a Fusion Boost armor or an ultra-rare armor.
Dark Prince's Chests
Edit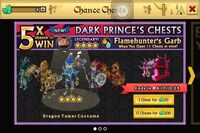 Dark Prince's Chest is the most expensive (not including limited time chests which are usually 30-40 gems) out of the 4 chests which need 10 Gems to open or the Dark Prince's Key. You can win Armors with the rarity of Super Rare to Legendary, also including Nemesis. It was released 29th of March 2013.
Ring and Amulet Chests
Edit
The Ring and Amulet Chest is a permanent chance chest that was released in the month of February 2015. This chest introduced the Legendary Tiers for Rings and Amulets, as well as the Fire Fusion Boost Ring and Fire Fusion Boost Amulet. This is currently the only permanent chance chest that cannot be opened with a key, and must be opened with gems. You can win Super Rare Rings/Amulets to Legendary Rings/Amulets in this chance chest.
Limited Edition Chests
Edit
                            WIth the new update limited edition chests cost 25 gems and chances at epics and dragon forged are higher than ever.             
Chest Name
Began
Finished
New Armor Added
Solstice Chest
June 21, 2013
June 27, 2013
Dragon Chest
July 7, 2013
July 31, 2013
Moontide Platemail
Flame Chest
August 10, 2013
August 12, 2013
Blazeborne Vanguard
Shadow Chest
August 29, 2013
September 3, 2013
Tectonic Mantle
Maelstrom Chest
September 13, 2013
Maelstrom Irons
Fusion Chest
September 26, 2013
September 30, 2013
Beast Chest
October 2, 2013
October 9, 2013
Beastmaster Battlegear
Northerner's Chest
November 14, 2013
November 18, 2013
Northerner's Battlegear
Thanksgiving Chest
November 28, 2013
December 5, 2013
Arborsteel Vanguard
Yule Chest
December 7, 2013
December 13, 2013
Red Kaleidoscopic Raiment
December 19, 2013
December 27, 2013
Winter Chest
December 27, 2013
January 8, 2014
Druidic Platemail
Fusion Chest
January 9, 2014
January 13, 2014
Sandstorm Chest
January 18, 2014
Sandstorm Platemail
Fortune Chest
January 24, 2014
January 29, 2014
Green Kaleidoscopic Raiment
Nian Chest
January 30, 2014
February 5, 2014
Armor of the Komodo
Cupid's Chest
February 14th, 2014
February 20th, 2014
Wraith Chest
Mardi Gras Chest
February 27th, 2014
March 4th, 2014
Aquatic Battlegear
Wasp Chest
Fools Chest
Centurion Aegis
Creepy Crawlers Chest
April 4th, 2014

April 6th, 2014

Egg Chest
April 10th, 2014

April 15th, 2014
Please visit this page if you wish to share your Chance Chest rewards! Share:Chance Chests