Ad blocker interference detected!
Wikia is a free-to-use site that makes money from advertising. We have a modified experience for viewers using ad blockers

Wikia is not accessible if you've made further modifications. Remove the custom ad blocker rule(s) and the page will load as expected.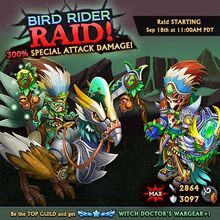 The Bird Rider Raid started on September 18th, 2015, and ended on September 20th, 2015. The main reward was Witch Doctor's Wargear, which is an Air/Earth Dragonforged Armor.  The Bird Rider has returned for a Blitz Raid on November 7th, 2016 for 27 hours (ending at 2:00 PM PST on November 8th). The reward in that Blitz Raid is the new Seismic Waveplate Dragonforged Armor.
First Bird Rider Raid (September 2015):
Guilds/Players 1-3 receive the Plus version

Guild/Player #1 receive 2 Plus versions

Guilds/Players 4-10 receive the Regular version
Second Bird Rider Raid (November 2016):
Armor

Common
•

Uncommon
•

Rare
•

Super Rare
•

Ultra Rare
•

Legendary
•

Epic
•

Dragonforged
•

Shadowforged
•

Nemesis
•
Epic Boss Armors
•
Fusion Boost Armor